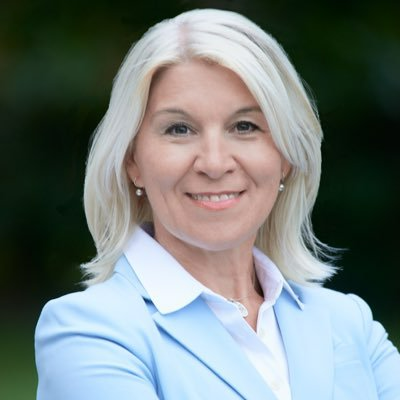 Ward 4 - Parkdale-High Park, Etobicoke-Lakeshore
Teresa consistently advocates for what is best for the students in her community. She is passionate about her trusteeship at the Toronto Catholic District School Board (TCDSB). She is also an attentive listener who responds to the needs of her constituents which has led to an enhanced learning environment and experience for the children of Ward 4.
Bilingual in Polish and Ukrainian
Born and raised in Poland, Teresa immigrated to Canada in her 20s and is fluent in both Polish and Ukrainian. She has been a resident of Ward 4 Parkdale-High Park and Etobicoke-Lakeshore for 35 years and has been an active member of the community. She and her husband Mark have four children who range in ages from 12 to 24, all of whom are either currently attending or have graduated from schools in the TCDSB.
Teresa has been an active member of many school and parish committees. Prior to her tenure as a Catholic School Board Trustee, Teresa ran her own successful business providing early educational programming for young children. She acquired additional education, professional skills, and experience working for a number of institutions and volunteering her time on community projects. She has over twenty years of administrative experience which has contributed to her effectiveness as a School Board Trustee.
Teresa is a practicing Catholic who models the faith in both her family life and the life of the community. She and her family are active parishioners.
Her strong people skills are an asset to her in dealing with her constituents. She sees her position as a unique opportunity to nurture those values essential to our Catholic School System. She strives to embed these values in the educational experience of our students, as well as in the Board's outreach to the broader community at large. This has been especially important in her work on the Race Relations Committee.
Teresa was elected in October of 2018. Since then, she has worked tirelessly with local municipal and provincial politicians to advance the interests of her constituents. Through tireless advocacy for her constituents, she has been instrumental in securing funding for two new school buildings of over $55 million, securing funding for increased daycare of over $10 million and over $400,000.00 for better playgrounds across Ward 4.
Teresa initiated raising the Every Child Matters flag in all 200 Toronto Catholic Schools. She has been an active member of various Committees. This includes serving as Chair of the Corporate Services Committee, Strategic Planning and Property Committee, a member of the Race Relations Committee, and for two years Vice-Chair of the Student Achievement Committee and the Well Being.
As a member of the Race Relations Committee, she has committed herself to the cause of inclusivity and equity within the Board through the lens of our Catholic values.