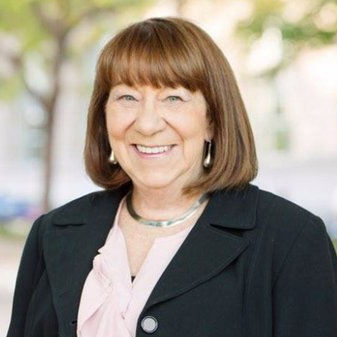 Ward 11 - East York / Toronto
Angela was first elected as a Toronto Catholic District School Board (TCDSB) Trustee for Ward 11 in 2000, and was re-elected to her 6th term in 2014. In her time as a Trustee, she has served as Chair of the Board for two terms: 2008-2010 and 2015-2017. She also serves the Catholic community in city wards 26, 29, 30, 31, 32, 33 and 34.
Angela was educated in the Catholic school system in Toronto. She attended Corpus Christi Catholic Elementary School before graduating from Notre Dame Catholic Secondary School and St. Joseph's School of Nursing.
Angela and her husband Alistair are the proud parents of seven boys, and now have ten grandchildren and one great-grandchild. Angela was extensively involved in her children's education. She served on the Parent Teacher Association for St. John Fisher Catholic School, St. Kateri Catholic School and Brebeuf College School. She was the founding president of the Brebeuf PTA, and founded the Kateri Kids Child Care Centre. She served as Chair of the TRC –The Toronto Regional Council of the Federation of Catholic Teachers and Parents of Ontario, which was the forerunner of the Toronto Association of Parents in Catholic Education.
Her training ground for her local political career was involved in the founding of the Ontario Nurses Association through the efforts of RNAO in the early 1970s. She became the local president of the Toronto East General Hospital Nurses Union (LOCAL 115), a position she held for 10 years. During this time, she served on the local negotiating committee, as well as the grievance and occupational health and safety committees. Angela is a Registered Nurse (RN) who is a certified diabetes educator (CDE). She is currently employed at Michael Garron Hospital (formerly known as Toronto East General Hospital), where she has worked for over 50 years.
Angela played a lead role from 2000-2002 in developing the innovative partnership between two community health care centers and the community hospital to provide diabetes education programs for people with type 2 diabetes. The Diabetes Community Network for East Toronto (DECNET) received funding from the Ministry of Health and Long-Term Care and is now the model throughout the province of Ontario.
During her terms as trustee, she has served in the capacity of:
Chair of the Board

Vice-Chair of the Board

Vice-Chair & Member of the SEAC Committee (Special Education Advisory Committee)

Co-Chair and Founder Asian Heritage Committee 2005-2010

Member of the TCDSB Race Relations and Multiculturalism Committee

Trustee Appointed to CPIC (Catholic Parent Involvement Committee)

Member Angel Foundation for Learning Committee

Director OCSTA (Ontario Catholic Trustees' Association)
Current Medical Memberships include:
Ontario Nurses Association (ONA)

Registered Nurses Association (RNAO)

College of Nurses

Diabetes Canada (diabetes educator section)
Awards:
2018 Banting and Best Diabetes Educator of the Year

2015 Queen Elizabeth II Diamond Jubilee Medal

2006 Woman of Distinction in the Beaches

2005 Down Syndrome Association

2004 Canadian Diabetes Association for development of culturally sensitive teaching tool (Home exercise program for Tamil speaking community)

1991 Umbrella Day Care Award

1987 Silent Voice Canada (volunteer recognition)
Angela Kennedy Trustee Ward 11 is a recipient of this award because she has demonstrated a commitment to witnessing her faith by putting her Catholic values into action and encouraging others to follow her example. Her recent work for the St. Brigid Out of the Cold Program is an example of her many years of leadership in the Catholic Community. Trustee Kennedy's service as a parent has encouraged parental engagement and reinforced the important correlation between parental involvement and student success. The enthusiasm and passion she has displayed in health care and education is a legacy that continues to improve the health care and well-being of the community at large. At the same time as trustee, she has been actively dedicated to equity and inclusion, the elimination of racial discrimination and the celebration of our cultural diversity through a variety of initiatives including involvement in Asian Heritage Month celebrations. - 2015 Queen Elizabeth II Diamond Jubilee Medal nomination